Trip to Vang Vieng

In the past, Vang Vieng which is located 156 km from the capital of Vientiane along road No. 13 north, road section between Vientiane and Luang Prabang, was called Muong Xong.

Vang Vieng is surrounded with a magnificent view of mountains, trees, and flowers as well as some interesting historical and cultural sites with a unique tradition and culture.

History of Vang Vieng

Nam Xong, the main river of this district has its own legend. According to the tales of Khounboulom Rajathirath, King Fa Ngum defeated and governed Phai Naam the capital city of Lane Xang Vientiane. Phra Nha Phao, king of Phai Naam was captured on the Xong (bed) and was to be taken to Luang Prabang for sentencing. Along the way from Pai Naam to Luang Prabang, the troops had pass through Bane Thine Heng and Pha Tang. When Pha Nha Phao was taken to Pha Tang, he became ill and died.

His corpse was then sent to drift along the Houai Sida river, as the villagers saw the corpse, they then named the river Xong of Pha Nha Phao or Nam Xong ever since 1356.

And even before given the name Muong Xong, Vang Vieng was also called Bane Thine Heng where the middle land and Khom people spent their lives for many generations. Then as time passed, Thai Phouane, the Xieng Khouang people settled here and most of the people in Vang Vieng today are Xieng Khouang.

When the black warriors and Siamese troops invaded Lane Xang Kingdom in 1874, Thao Tengtai or Pha Nha Isane Outaitesa Saysanaxongkham was born in 1850 in Houaphan Thangha and Thanghok. He was the fourth child of Pha Nha Gnom family and nephew of Pha Nha Soulintha. Thao Tengtai was advised by his father to look for a peaceful place for his people to live.

Thao Tengtai spent 22 years looking for a permanent place to live before arriving in Bane Phone Nhang located in the Thoulakhom area. They stayed there for 9 years because Thao Tengtai had to attend an administration training course in Luang Prabang managed by the Siamese administration. The chief of Thoulakhom was requested by Thao Tengtai to look after his people within that time.

After completing the training course, he returned to his people in Thoulakhom and said goodbye to the chief of Thoulakhom. They then moved upward passing through Bane Phone Nhang and upstream through Nam Lik and Nam Xong river.

When Thao Tengtai and his people arrived at Bane Hine Khanmak, the present cement factory, they spent a year building their town. But they realized that the location of Muong Xong was much better since it was located along Nam Xong river. So they decided to construct their homes and Thao Tengtai was nominated to be the chief of the town.

From 1893 to 1899, when the kingdom of Laos was under French administration, Muong Xong was recognized as the town.

Pierre Moring, a representative of the French government and his assistant in Vientiane, officially recognized the town in May 16, 1899 and nominated Thao Tengtai or otherwise known as Pha Nha Isane to be the chief of the town and changed the name of Muong Xong to be called Vang Vieng.

Vang Vieng is on the way to Luang Prabang from Vientiane, so the king of Lane Xang Luang Prabang and Lane Xang Vientiane often stopped here to relax.

Vang Vieng is now a tourist site for travelers from Vientiane heading to Luang Prabang along road No.13 north. When visiting Vang Vieng one has to stop and see the lovely nature of Pha Xang, Tham Jang, Tham None, Phadeng, Pha Tang and much more.

Wat Done Hor is the oldest temple among five temples located in Vang Vieng. It was built by Pha Nha Outai in 1903. There are 8 poles made by rocks, rocks in six sections join each pole. In this temple there is a big Buddha image, and offering hall and a big stupa all of which were built at the same time as the main temple construction.
The Fable of Pha Tang Mount
Pha Tang is alike a standing stupa that no one can climb up to its top. It is the most attractive and strange mountain in Vang Vieng because of its own unique shape created by nature.
Generally speaking about Pha Tang, people prefer to say Pha Tang Vang Vieng since it is located closely to Bane Pha Tang and located besides Nam Xong river.
No one knows clearly about it as its history was not mentioned in Vang Vieng history book. Many interesting fable of Pha Tang has been only recited for fun since the old generations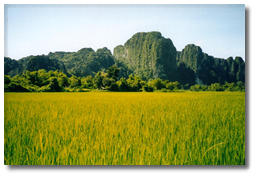 .
Old reciting that once upon a time, there was a big man whose name was called Thao Chethai. When he drank he can drink seven pot of alcohol. He was stronger than ordinary people and he worked as the farmer in Nam Xong rice field.
When there was very heavy flooding, he was very angry with the river, he found out the way to block the river, so he carried big rocks to make embankment.
While he carried the rocks to this existing place of Pha Tang, his shoulder pole was broken because the rocks were too heavy and one of the rock fell down to be as Pha Tang at the present day. And other was fallen far away that no one know where it is till the present time.
Old saying that one of the rocks was fallen down over him, so Thao Chethai and his dog were killed. Now we can see the head of the dog on the top of this mount.
Anyone who travels along the road No. 13 north, will alert their eyes to see Pha Tang mount.
By P. Phouangsava - Visiting Muong Lao Magazine